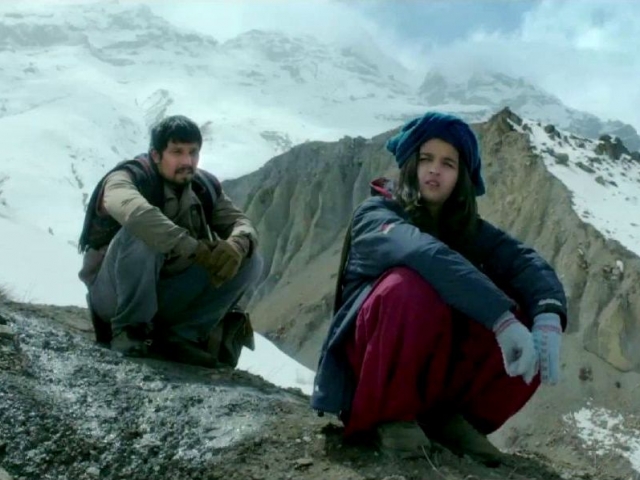 Highway is a journey of self-discovery. Alia Bhatt shares some of her finest moments on the big screen, so far, with her co-star Randeep Hooda, and assures her fans that there will be many more fine performances from her in the future. In essence, Highway is a movie about self-realization that takes place when one steps outside the comfort zone as it is then that one is able to connect better with oneself.
The movie starts off as a regular kidnapping story. However, as the movie progresses, the audience see a bond developing between Veera Tripathi (Alia Bhatt), the one who is kidnapped and Mahabir Bhati (Randeep Hooda), her kidnapper. Veera is not your ordinary girl. Even though she comes from a rich and influential family residing in the city, she craves to be amongst Nature. She has a dream of living in the mountains one day.
Although initially scared of her kidnapper, Veera is a smart girl, and she realizes that Mahabir means her no harm. It is after this realization that she gets comfortable with him. Mahabir drives Veera to different places, trying to elude the cops. Veera enjoys this road trip entirely and is worried that it might come to an end at some point.
Will Veera be able to achieve her dream of living in the mountains? The audience will come to know as the movie reaches its end. The direction by Imtiaz Ali is top-notch. Both Randeep Hooda and Alia Bhaat have performed admirably. The music by AR Rahman is classy, and the viewers will savor it. The scenery is spectacular.
The viewers will find this movie to be thoroughly engrossing, and at the same time unconventional. It is not your run-of-the-mill movie. It will be an entertaining journey if one goes with an open mind. The moral of the story is that it is not necessary to have a lot of money to achieve your dreams. What is needed is the will to pursue what you want, and in the end the Universe will conspire to deliver it to you.