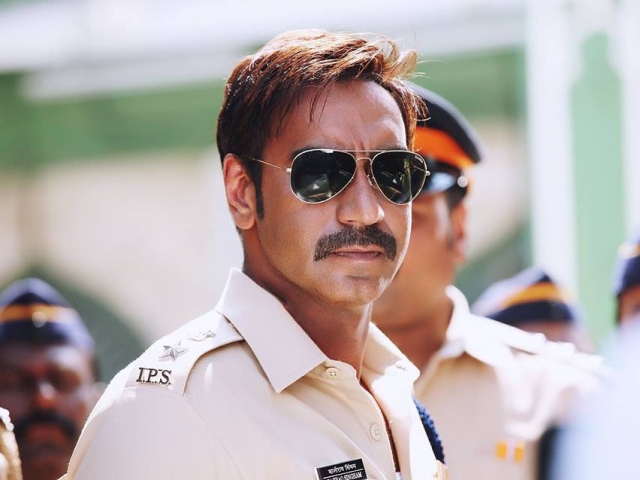 Singham Returns, the sequel to Singham (2011), is nothing more than a film glorifying the Mumbai Police. It has a wafer-thin script that for the better part is predictable and clichéd. Sub-inspector Bajirao Singham (Ajay Devgn) steamrolls nearly every baddie who comes in his path. Ajay Devgn walks and talks like he is a man on a mission. If only more personnel in the Mumbai Police were like him, it would drastically bring down the rate of crime in the metro.
Coming back to the film then, what's in it for the audience? Frankly, not much except some action sequences that are well orchestrated by director Rohit Shetty, and of course if you happen to be a fan of the Mumbai Police then you will be entirely pleased by the manner in which it has been portrayed in this film. And yes, there are a few hard-hitting dialogues too that the viewer can look forward to, mainly from Ajay Devgn and sometimes from some of the supporting cast that comprises of Dayanand Shetty, Anupam Kher and Amole Gupte among others.
On the other hand, if you are not too keen on seeing a promotional film for the Mumbai Police, and neither are you a fan of Ajay Devgn's acting, it is best that you give Singham Returns a miss. Playing the devil's advocate for a moment here, there aren't really any particular instances in the film that'll put you off to sleep. Singham Returns is a busy film and something or the other keeps happening on the screen that engages you. When the action sequences aren't playing, it is a slightly awkward romance between Singham and Avni (Kareena Kapoor) that keeps you entertained. Songs are an integral part of any Bollywood masala film, and Singham Returns is no exception. So, you have songs interspersed amongst all the action in the film.
To sum it up, Singham Returns is nothing quite as entertaining as you would expect a Bollywood film to be. Having said that, if you are going to a cinema hall merely to see Ajay Devgn flex his muscles and some action sequences involving cars in typical Rohit Shetty style, then Singham Returns might be your cup of tea.