A koala, Buster Moon, trying to rescue his theater from being possessed by the bank comes up with a last-ditch effort and attempts to organize a singing competition. Let's find out more in the Sing film review.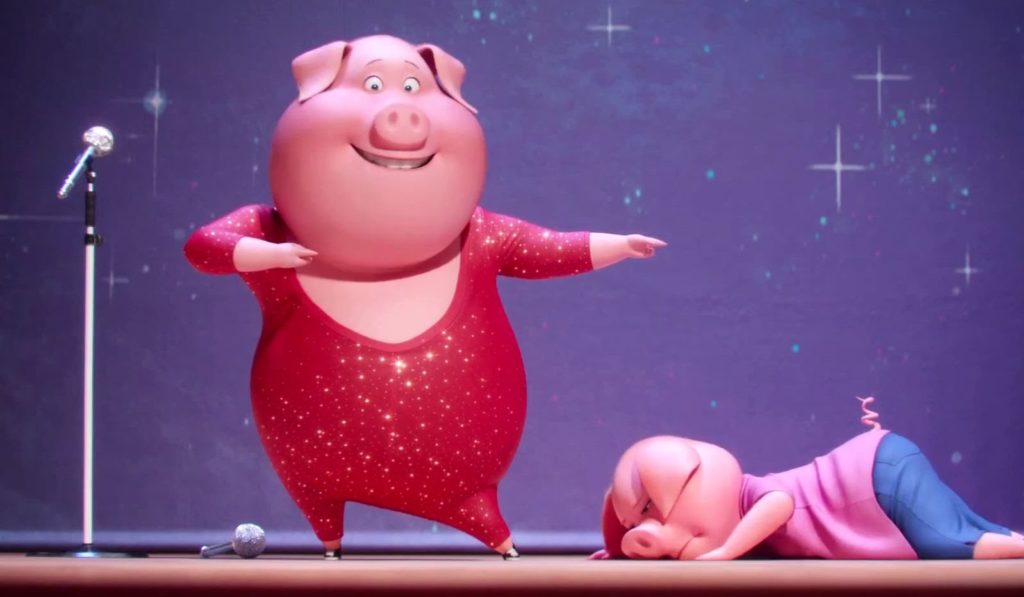 Sing Film Review – The Story
Down on his luck koala, Buster Moon, voiced by Matthew McConaughey, decides to give one final shot to save his beloved theater from being taken over by the bank. He tells his best friend, Eddie, voiced by John C. Reilly, that he will have a singing competition. Making it through the auditions is Johnny (voiced by Taron Egerton), a gorilla, who unlike his father, doesn't want to be a criminal. Joining him is Ash (voiced by Scarlett Johansson), a porcupine, who sure can belt out some heavy metal numbers.
Then there is Rosita (voiced by Reese Witherspoon), a pig, who is so consumed doing household chores that she finds the thought of entering a singing competition liberating. Along with a pig named Gunter (voiced by Nick Kroll), who takes to the stage in a glittery costume and dances like there's no tomorrow, Rosita and Gunter make a scintillating duo. To round things up, we have a gambler mouse, Mike (voiced by Seth MacFarlane) who croons oldies to die for and a late entrant in a shy elephant, Meena (voiced by Tori Kelly).
As everything looks set for a grand showdown, will Buster Moon be able to save his cherished theater or will he have to overcome roadblocks along the way?
Sing Film Review – The Positives
Sing has messages affirming a positive attitude in life; Buster Moon never gives up, even though his theater is doing badly. He always keeps his calm and looks for avenues that can get him to a better place. In doing so, Buster Moon might not always have his way, yet, the movie reaffirms that failures shouldn't keep us from doing what we want.
Also, watch out for the excellent voiceovers, especially by Garth Jennings, the director of Sing, who voices an iguana, Ms. Crawley, Buster Moon's secretary.
Sing Film Review – The Negatives
There are a few scenes of peril in Sing that might be disturbing for younger audiences, and, occasionally, it gets a bit somber. Having said that, this is due to the route taken by the story. At best, the filmmakers could have tapered it down a wee bit.
The Final Word
By and large, Sing is a hope instilling movie, particularly for the little ones, while providing loads of fun in doing so. Kids no doubt will lap it up, but so will many adults in the audience. If you haven't seen it yet, I recommend that you do so, especially if you have a young one to accompany.
Stars: 3.75 out of 5