It is no small feat that Amit V Masurkar's Newton is India's official submission to the 90th Academy Awards for Best Foreign Language Film. In the Newton film review, we see some of its salient aspects.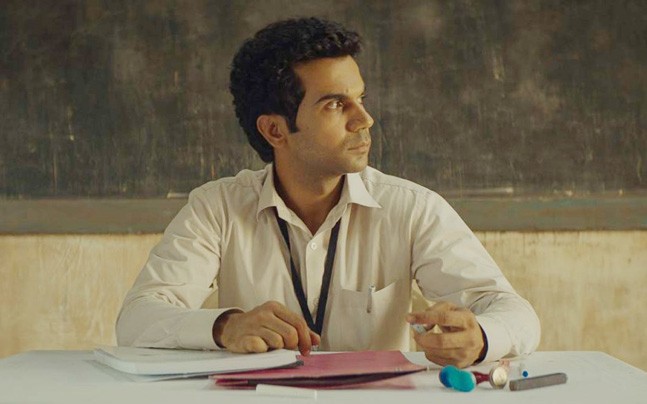 The story of Newton is rather simple. Newton Kumar, a rookie election officer, is trying to conduct free and fair polling in a Naxal-ridden area of Chhattisgarh. However, he soon finds that there are many a roadblock to his pursuit. Traversing the Naxalite region, as the election day unfolds, Newton realizes that there is a bevy of odds stacked up against him preventing him from doing his duty. How will he negotiate these obstacles? Will he be able to convince the villagers to vote? Newton is the story of an honest man trying to do his job in a system riddled with dishonest and manipulative individuals with their vested interests.
Rajkummar Rao as Newton is faithful to the script. Although, his character is somewhat one-dimensional and speaks in a monotone without any significant modulation. Raghubir Yadav, who as Loknath is assisting him in conducting the polls, is more realistic than Newton. Partly, this is because he has more field experience than the latter and hence is more worldly-wise. Pankaj Tripathi who plays Aatma Singh, the hardened CRPF officer, is always at loggerheads with Newton. He never seems to see things in the way Newton sees them. Both, Raghubir Yadav and Pankaj Tripathi have played their parts honestly.
There is a fair bit of dark humor in the narrative that will keep you invested in the film through its runtime. There are times when the movie tends to have a documentary-like vibe to it. However, the satire that peeks up now and then keeps it from going in that direction.
Newton's backdrop doesn't change much throughout the film. As a result, after a point, it gets a bit taxing to see the monotony in setting as well as the same characters progressing at a somewhat tepid pace.
As we enter the last act of the film, Newton does end on an optimistic note, and that speaks well of the filmmakers. Despite the often melancholy tone through its duration, Newton leaves you with a sense of hope, and that's a significant achievement for the film.
If you are expecting Newton to be an all-out entertainment film, then I am afraid you must look elsewhere. You have to take pleasure in the subtler nuances that present themselves during the movie. Only then will you be able to appreciate this piece of work.
Newton is for a niche audience and those exposed to more diverse types of cinema will undoubtedly be more appreciative of it. However, this isn't saying that Newton is something remarkable. In fact, even the festival regulars will probably agree that it is at the most a quality film but nowhere near the very best.
Newton film review rating: (3 / 5)
If you liked the Newton film review, please consider sharing it with others.