I had a vague idea of what I was getting into when I decided to check out this one. My wife and I are Irrfan Khan fans and hence didn't want to let the opportunity go by of watching another one of his movies on the big screen. Would this dramedy live up to our modest expectations? Let's find out in the Hindi Medium film review.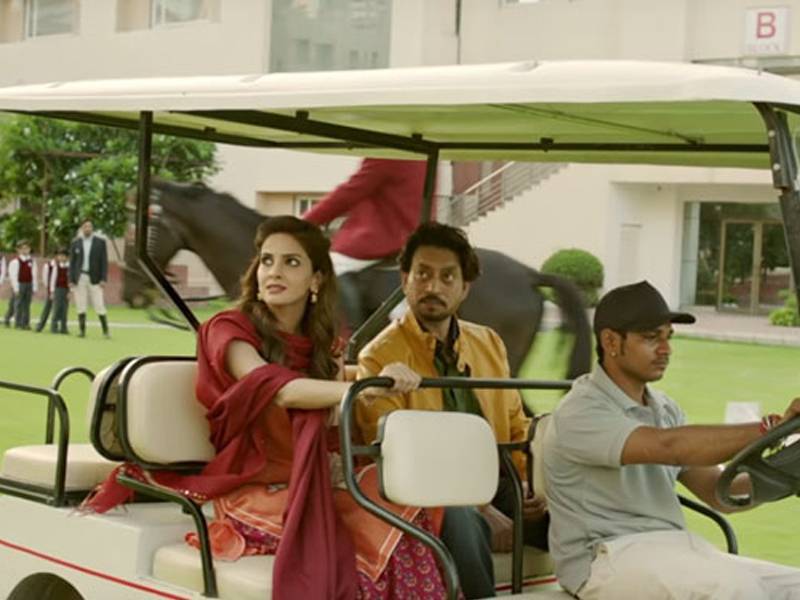 I was looking forward to the story. Would it be any better than the trailer? Although, trailers are not always indicative of how the film will be. Also, there's Irrfan Khan, and you can't go to his movies not expecting an excellent performance from him.
The premise of this film is how far a mother can go to secure her child's admission in Delhi's top school. Well, if you were to watch Hindi Medium, you'd learn that she does indeed go all out. In real life, this might seem far-fetched, and you would be probably right in thinking that some of the things depicted in this movie are way over the top. Now, we can let that go if we get a few chuckles out of it.
I am sure that the makers of this movie wanted it to be a comedy rather than delivering a statement. If the latter was on their minds, it doesn't achieve its intended goal. However, taken as a comedy and nothing more, it does pretty well, especially for three-quarters of its runtime. It flounders in the last quarter lacking humor and trying to be a bit preachy.
Straddling the fine line between comedy and drama is never easy. Hindi Medium's undoing is its last half hour or so when the film becomes a bit tedious to watch with the humor that kept it going till then just about drying up.
The supporting cast delivers a creditable performance. Watch out for Deepak Dobriyal as the funnyman playing a simpleton in this film. He and Irrfan Khan are the standouts as far as acting is concerned, although Saba Qamar portrays Irrfan's wife rather well.
Hindi Medium isn't a movie that's going to stay with you after the end credit. It's just a fun one time watch, and that's it. As a comedy, the film does fine even at the cost of believability given that it has a very real topic as its subject. However, it does stretch a bit towards the finale, and that certainly could have been avoided.
Hindi Medium film review gives this movie 3 out of 5 stars
If you like this Hindi Medium fim review, please share it with your friends.