Golmaal Again is a silly and somewhat pointless film. Some might even argue that making it was a travesty in itself. Although, the movie will appeal to the sensibilities of the masses with whom the director wishes to connect. We take a look at it in the Golmaal Again film review.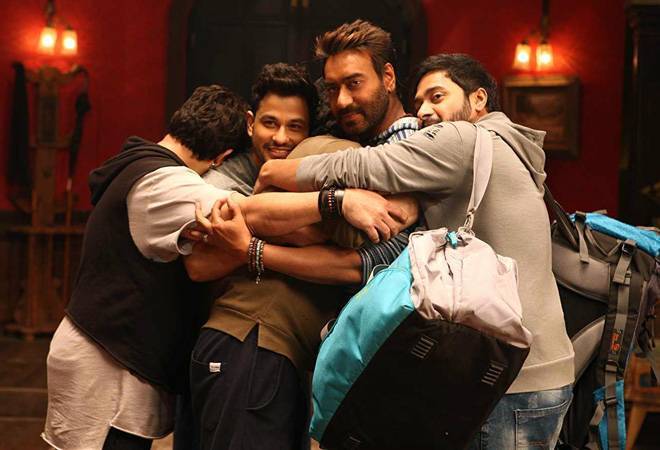 In such movies, there isn't much of a story so to speak, and Golmaal Again is no exception. The quintet (Ajay Devgn, Shreyas Talpade, Arshad Warsi, Tusshar Kapoor, Kunal Khemu) is back, and this time they are dealing with not only living adversaries (Neil Nitin Mukesh and Prakash Raj) but ghosts as well. Their mission is to salvage the orphanage, where they spent their childhood years, from those having vested interest in the land upon which it stands. There's also a librarian (Tabu) who can see spirits and a somewhat friendly ghost (Paineeti Chopra) who seeks revenge as she is aggrieved upon being cheated by her lover. Going by the film's tagline, it's magic and not logic that's at the core of the movie.
So, once we have put the story out of the way, we are into individual scenes and their propensity to make us laugh. While this is a highly subjective aspect, I could connect to far fewer jokes than the audience that was in the auditorium watching the film along with me. Like I mentioned before, Rohit Shetty has this uncanny knack of connecting with the masses. Once more with Golmaal Again, he seems to have done just that.
To be fair to the cast of the film, with such a flimsy script to work with, even a talented actor can look pretty ordinary. So, when you see the likes of Tabu grace the screen and want to cherish her performance, you probably won't be able to do that. Nevertheless, her inclusion in this project does add charisma and level-headedness, and along with Parineeti Chopra who looks every bit as ravishing as you'd expect her to, the duo is probably a good thing for the movie. There is also a lot of song and dance that adds pizzazz to this film. Talents like Johnny Lever and other supporting casts don't go unnoticed as they have plenty of onscreen time.
If you are looking to watch something that you'd instantly forget without any regrets, Golmaal Again falls into that space. Nobody goes expecting anything from such films, and if you can get a few decent gags without a headache at the end, it's probably a fair deal.
Golmaal Again film review rates the film (2.5 / 5)
If you liked the Golmaal Again film review, please consider sharing it with others.