To be honest, I am a bit surprised why most critics have reviled this movie. Yes, it has a faulty premise, and it could have been much better, but trust me, there is a lot of trash out there, and this one is well above that. Let us look at some of its salient features in the Collateral Beauty film review.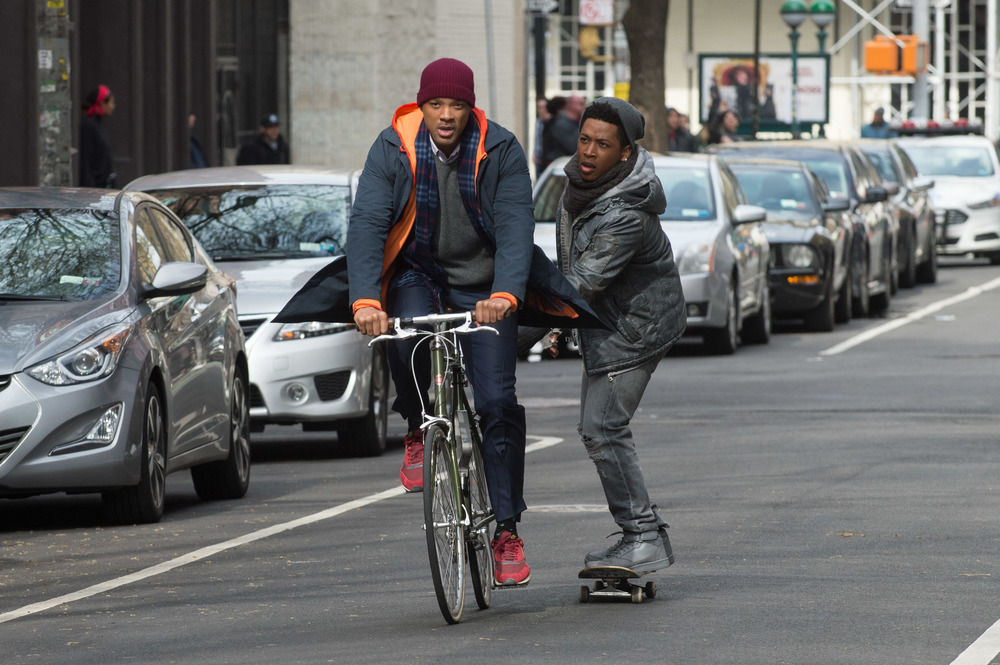 Collateral Beauty Film Review – The Story
Howard has tragically lost his young daughter, and that has made him retract from everyone. He has no interest left in everyday work and he doesn't involve himself in the duties of the company that he heads. That prompts his partner, and two other close friends working in the same company to hatch a plot to prove that he is insane so that they can then take decisions without his involvement.
As Howard writes letters to Death, Love, and Time, the trio hire actors to play Death, Love, and Time, and approach Howard. Their plan is to record his interactions with them and show it as proof of his insanity.
Problems of their own beleaguer these three friends. Whit (Edward Norton) has a daughter who deplores him because of his philandering ways. Claire (Kate Winslet) has given her life to the company, but on the personal front, she seeks a child that she cannot have. Simon (Michael Peña) has a deadly disease, but he won't confront his family and tell them about it. They are all concerned about their future and thus want Howard to function normally, but as he is unable to do so even after two years since his daughter's demise, they think that it is in their best interest that they did something radical.
Collateral Beauty Film Review – The Positives
Well, the plot may not go down very well with everyone. Having said that, you cannot judge a movie merely on its plot. Will Smith who plays Howard, enveloped in grief upon his daughter's passing away, is excellent. Death, Love, and Time, played by Helen Mirren, Keira Knightley, and Jacob Latimore, respectively are thoroughly entertaining. Naomie Harris as a counselor in a grief therapy class is second to none in this film.
I like the greater message that the movie tries to deliver, in spite of its somewhat distorted plot, that one should never give up no matter how great a loss and should see the collateral beauty in life.
Collateral Beauty Film Review – The Negatives
Like many others, I too was not impressed by the plot. I mean, if your colleague has suffered a tragedy in his personal life, would you even consider sending people to interact with him so that you could secretly film him and prove that he is mentally unfit to take decisions? I think not. That is a major grouse that I have with this movie. Had the filmmakers taken another route to deliver their message, it would have been an altogether different story.
The Final Word
Collateral Beauty is not the most uplifting movie you will see, and it is not the worst movie either as portrayed by some critics. I found it a rather passable one-time watch. If you overlook its twisted plot, there are some beautiful moments too for the taking, particularly towards the finale.
Stars: 2.5 out of 5