Sans laughs and with an awkward twist at the end, it is best to avoid this one. Let's look at why Bank Chor fails to entertain in the Bank Chor film review.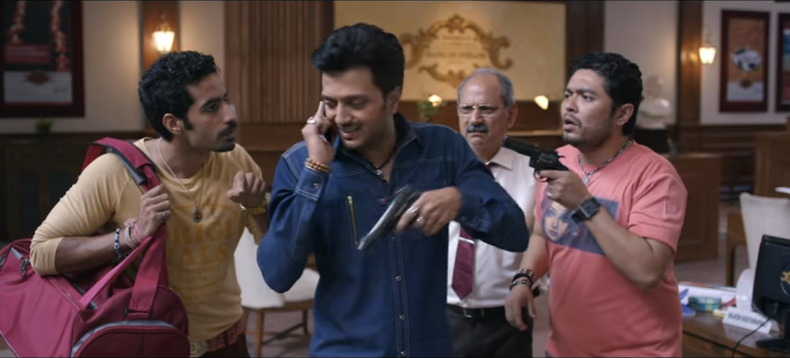 As three bumbling robbers take a bank hostage, zaniness unleashes. This movie squanders the comic talents of Riteish Deshmukh who plays Champak, the head of the gang. The first half of the film is a complete drag as none of the dialogues hit the mark. At times they are so inept that they almost come off as written by a schoolboy. It's safe to say that Bank Chor is the worst Riteish Deshmukh comedy in years.
To be honest, it isn't much of comedy either, as right at the cusp of the interval the movie switches tracks, and this manages to inject some much needed vitality into the movie. However, this only helps to elevate it marginally from the banality of the first half. Bank Chor isn't quite able to get a grip on its story, and as a result, it is a mess. The film wanders a bit in the second half and tries to bring in some interesting elements, but that doesn't pay off much.
The problem with Bank Chor isn't its characters. It is the story. It is so inconsistent that a workable premise seems utterly wasted. Vivek Oberoi plays the CBI agent who is pursuing this bank robbery, and you can make out that he is at sixes and sevens over here. There are some new faces too, and sadly, though nothing wrong with the acting, the dialogues and scenes let them down.
If you are going in expecting a laugh-out-loud, you will be thoroughly disappointed. Towards the end, there is a twist that will leave most of the audiences befuddled. It's nice to have a plausible twist right at the end of a movie, but this one seems apparently forced just to add something to the film and leaves you unsatisfied.
Bank Chor film review gives Bank Chor 1 star out of 5
If you liked the Bank Chor film review, please share it with your friends.