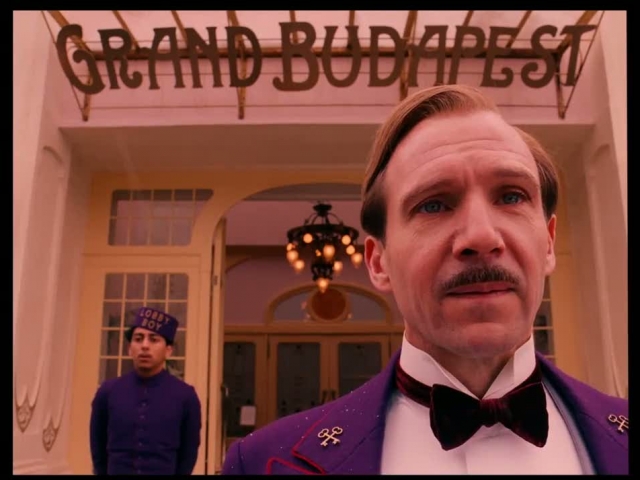 With The Grand Budapest Hotel, Wes Anderson's magic once again leaves the viewer enthralled. This latest offering from the great auteur is an alluring cinematic experience that, no doubt, moviegoers have come to associate with Wes Anderson's films. The Grand Budapest Hotel has all the trademarks of Wes' cinema, right from the wonderful style of storytelling to the exquisite composition of every shot.
Set in the fictional country of Zubrowka, The Grand Budapest Hotel tells the tale of a famous concierge, Gustave H (Ralph Fiennes), and his protégé, the lobby boy, Zero Moustafa (Tony Revolori). It is 1932, and the Grand Budapest Hotel is doing roaring business, with many its distinguished guests visiting it only to be in the company of Gustave. Among them is Madame D. (Tilda Swinton) from Lutz, who is a regular visitor to the Grand Budapest Hotel. However, this time, before she leaves the hotel, Madame D. tells Gustave that she fears her life might be in danger. Gustave brushes aside her concerns and tells her that there is nothing to worry about.
After a few days, Madame D's fears come out true. Gustave along with Zero rush to Lutz, and upon reaching find her relatives assembled to hear out Madame D's will. To everyone's surprise, Madame D. leaves a priceless painting, Boy with Apple, for Gustave. Upon hearing this, Madame D's son, Dmitri (Adrien Brody), is infuriated. Gustave and Zero leave the place. However, they take the painting along with them. When Dmitri finds out that the painting has been taken by Gustave, he tells his assistant, Jopling (Willem Dafoe), to recover the painting. Also, he frames Gustave for the murder of his mother. The cops apprehend Gustave and send him to prison. Can Gustave prove his innocence? There are plenty of twists and turns as you watch The Grand Budapest Hotel to find the answer to this question.
An ensemble cast graces the film, and it is a treat to watch every one of them performing their parts to perfection. The standout performance has to be of Ralph Fiennes, who plays the part of Gustave admirably. Young Tony Revolori is a revelation as he charms the viewer with his portrayal of Zero. Many of the actors in this film like Bill Murray, Owen Wilson, Jason Schwartzman, and others have worked with Wes Anderson in his previous films as he does have an inclination to collaborate with the same actors and crew members time and again.
If this is your first Wes Anderson film, then you will get to experience a different kind of cinema. Patrons of Wes Anderson's cinema will be all too familiar with his style of filmmaking expecting more of the same. Either way, watching The Grand Budapest Hotel will leave you mesmerized as it is a wonderful story told in a most compelling manner with several fine actors displaying their acting talents.