Parched, contrary to what its title signifies, isn't bereft of sex. There is quite a bit in it. In particular, watch out for the passionate lovemaking scene between Adil Hussain and Radhika Apte that takes place in a cave. The movie from director Leena Yadav takes a semi-reality, semi-fantasy approach. Her characters yearn for freedom, and, once in a while, they take this flight of fancy in a colorful chariot. Let us see in the Parched film review if this art house offering can hold the interest of the audiences with its women-centric narrative.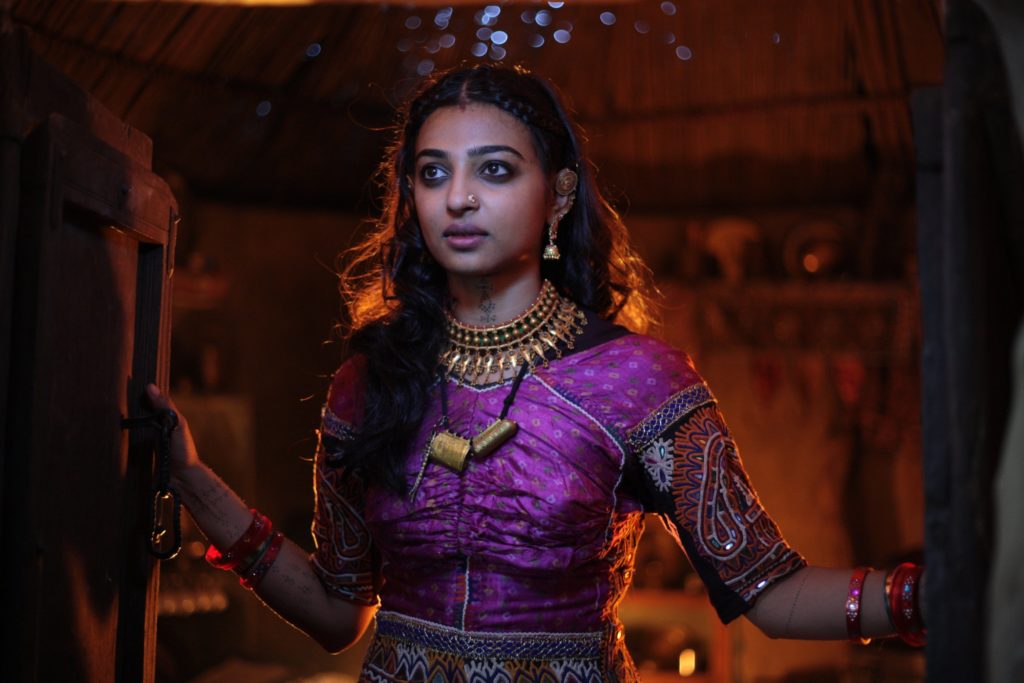 Parched Film Review – The Story
The film concerns the lives of its three central characters who beset with various problems resign to their circumstances and carry on living. Lajjo's (Radhika Apte) husband Manoj (Mahesh Balraj) repeatedly harasses her as he believes that she is infertile. Rani (Tannishtha Chatterjee), a widow, is trying desperately to wed her son, Gulab (Riddhi Sen) to Janaki (Lehar Khan). And, although Bijli (Surveen Chawla) is a folk dancer, to the men in the community she is nothing more than a whore.
These three are friends and find solace in sharing their stories and spend time talking about love, sex, and other things to take their minds off the hardships they face.
Parched Film Review – The Positives
The movie reasonably echoes the injustices that women face even today. Through the lives of the main characters, we see how living in a male-dominated society is marring the prosperity of women in the rural milieu.
Tannishtha Chatterjee is top notch playing Rani. She competently captures her character's nuances that enable it to stand out even though hers is the most understated of the three central characters.
Technically, the film is classy as Leena Yadav has left no stone unturned. Russell Carpenter is the cinematographer in Parched who depicts the rural landscape with excellent proficiency. The colors are vivid, and if ever the theme gets you down, this will pep you up.
Also, watch out for a power-packed cameo from Sayali Gupta at the start that sets things up nicely.
Parched Film Review – The Negatives
The film can't avoid cliches and although occasionally it tries to veer away, Parched never transcends into compelling cinema.
At nearly two hours, Parched seems a tad stretched out. Indeed, the audiences would have found the proceedings far more gripping had the movie been of a shorter duration.
Also, both Radhika Apte and Surveen Chawla are patchy at best. They do excel in some scenes, however, at other times they fail to hold your interest as much.
Considering the film highlights women's problems, Parched is not as hard-hitting a film as one might expect. That by itself is not necessarily a bad thing. Finally, it depends on what you are looking out for as a moviegoer.
The Final Word
Parched will cater to your sensitivities if you like movies that bring out deep-seated problems in society in a more accessible way, not necessarily through realistic cinema but one that entertains nevertheless.
Stars: 3/5