Mubarakan is the latest comedy to hit the big screen. At Film Comments, we see if it is worth a watch in the Mubarakan film review.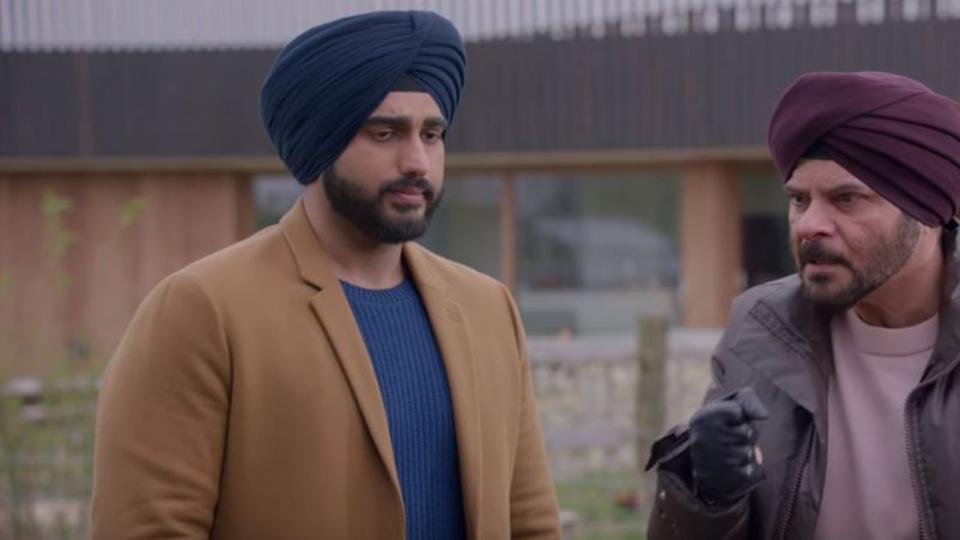 Arjun Kapoor plays a double role in this Housefull-esque film. While it has a whole lot of other actors, veteran actor Anil Kapoor helms this one. He shares the screen for the first time with nephew Arjun Kapoor. The duo plays out the same relationship in the movie as well. Several of the tropes seen in Mubarakan are used before countless times. In that regard, there isn't anything new that you will see here. Having said that, a prerequisite going into a movie such as this one is that you keep your mind at home.
Mubarakan has a lot of crazy shenanigans between the families that are a central part of its plot. Arjun Kapoor is playing two lookalike twins who fall in love with two beautiful lasses played by Ileana D'Cruz and Neha Sharma, and in the second half by Athiya Shetty, but their adopted parents have other plans. I am not going to go into the story as most of it doesn't make much sense anyway.
It doesn't make sense, and it doesn't have to, so long as the audience is having a good time watching it. So the real question is does Mubarakan provide enough laughs to keep your interest until the end.
Arjun Kapoor is only a few films old and is still learning his art. So, while he isn't as capable as his uncle Anil Kapoor in delivering the lines and extracting the guffaws from the audience, he's not particularly bad at it either. Nonetheless, Anil Kapoor is the real star of this movie. If it weren't for him, the movie would have capitulated. His comic timing is spot on, and in just about every scene that he is there, he manages to amuse you. The girls in this movie all do their parts passably. Two actors whose acting lends weight to the film are Ratna Pathak Shah and Pavan Malhotra. Although Mubarakan tends to drag a bit after the interval when the funny moments dry up considerably, it picks up momentum towards the end.
By and large, a tame family movie that will entertain you if you are into mild movies sans profanity and the harsher elements, Mubarakan, doesn't veer much from its path, and its madcap narrative keeps it in toe with its sole objective of entertaining the audience. If you are free on a lazy Sunday afternoon, watching Mubarakan might not be a bad way to spend some time along with your family. It has a bonhomie vibe to it.
Mubarakan film review gives Mubarakan 3 out of 5 stars.
If you liked the Mubarakan film review, please share it with others.