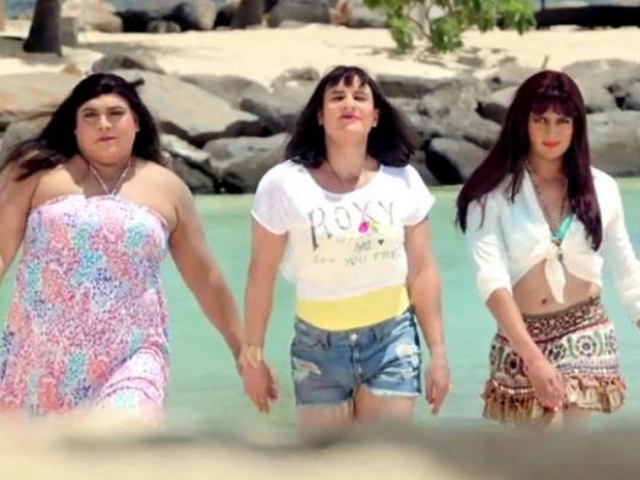 Sajid Khan's Humshakals has Saif Ali Khan, Riteish Deshmukh and Ram Kapoor in triple roles. Ashok Singhania (Saif Ali Khan) is a millionaire who has a conniving Mamaji (Ram Kapoor). Mamaji wants to get rid of Ashok and his best friend Kumar (Riteish Deshmukh). Will Mamaji succeed in his evil plans? Humshakals is all about the adventures of Ashok and Kumar as they try to get the better of Mamaji.
The moot question is whether Humshakals is funny enough for you to spend your time and money. Though the film tries hard to evoke laughter, it doesn't manage to do so consistently. There are times while watching the film when you will burst out laughing. However, this doesn't happen as often as you would wish. Of all the actors, Riteish Deshmukh is the most hilarious. Saif Ali Khan tries hard to make you laugh. Although he isn't as funny as Riteish Deshmukh, he isn't bad. Ram Kapoor plays the antagonist in the film, and by and large does a good job. The script doesn't give the female actors in the film to have much of an impact, and even though Bipasha Basu, Tamannaah Bhatia and Esha Gupta share between them considerable screen time, they are not thoroughly convincing in their parts.
A tighter script could have done Humshakals a world of good. However, don't try to find logic in the goings on, and you might not be disappointed. After the debacle of Hammatwala, Sajid Khan has definitely done a better job with Humshakals. The film is made for the masses, and by and large it will appeal to the moviegoers. There are many points one can make against the film. However, most will concur to the fact that the film does try very hard to make you laugh.
The film has a runtime of over two and half hours, and many times during this period it drags. There are some peppy numbers, and though not exceptional, they are not bad. Of course, Housefull stands as one of Sajid Khan's best efforts, and even though Humshakals is not a bad attempt, it is nowhere as funny as the former. To sum it up, Humshakals could have been much better, however, if you go without expecting too much, you might not be entirely disappointed.