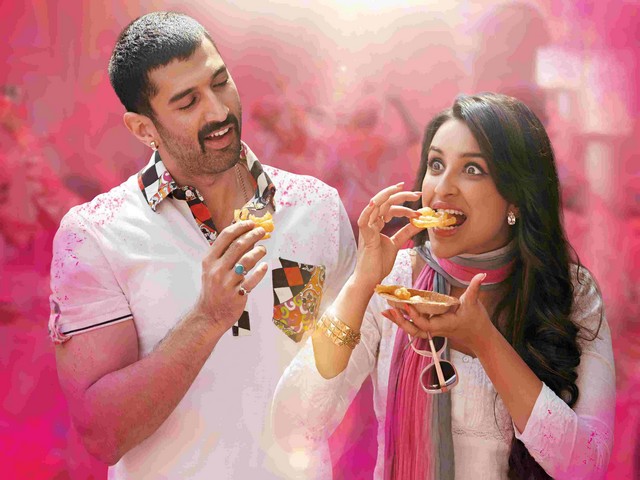 If you had seen only the first half an hour or so of Dawaat-e-Ishq, I wouldn't blame you if you were to think that you were in for a tasty treat as I thought exactly the same. The film appears to strike all the right chords with quite a promising start. Parineeti Chopra seems to hit the right notes in what looks like a role tailor-made for her. Anupam Kher, who plays the role of her doting father, seems as effective as ever. His priorities all well-sorted out and high on his to-do list is to find a respectable man for his daughter. The only hitch is that he has to find the right match for her within his budget as he can afford to pay only so much as dowry.
Gulrez Qadir (Parineeti Chopra), a well-educated and ambitious girl, wants a husband who can speak good English. After dismissing many a prospective husband, she falls in love with a handsome looking bloke played by Karan Wahi. Just when things are starting to look up for her, his parents demand a huge sum of money. Unable to pay this sum, she is left heartbroken. At this point, the film takes a turn, albeit, not for the better.
I was giggling away right up to this moment in the film, when things start going awry. Not only was I going to be let down by the story that was to ensue, I would also be left to contend myself with some rather mediocre acting from the lead pair of Aditya Roy Kapur and Parineeti Chopra. The humor that one saw until then also eventually was destined to dry up. In the end, it all came down to a badly orchestrated chase scene. It simply wasn't funny, and I believe I wasn't the only one in the audience who felt that way. As the name suggested, I was expecting food to be an integral part of the story of Dawaat-e-Ishq. Sadly, that wasn't the case to be, and at best you could say that food constituted one of the fringe elements of the story.
Even though the filmmakers might have wanted to convey a social message through their film, I found nothing remotely convincing in the manner it was sought to be conveyed. And if that were not their intention, a less pretentious route could just as well have been taken.