Ah, finally! A science fiction film without much razzmatazz. Denis Villeneuve's Arrival lends itself more towards artwork than a movie. Yes, you see aliens and stuff, but as with other films in this genre, there is neither any violence nor do we see any apocalyptic scenes. Here, we have visual communication play an integral part. As this is a spoiler-free review, I will not reveal much about the story. Of course, I recommend all science fiction lovers to watch this film, though even the others can merrily join the bandwagon for a change. The Arrival film review will highlight the salient features.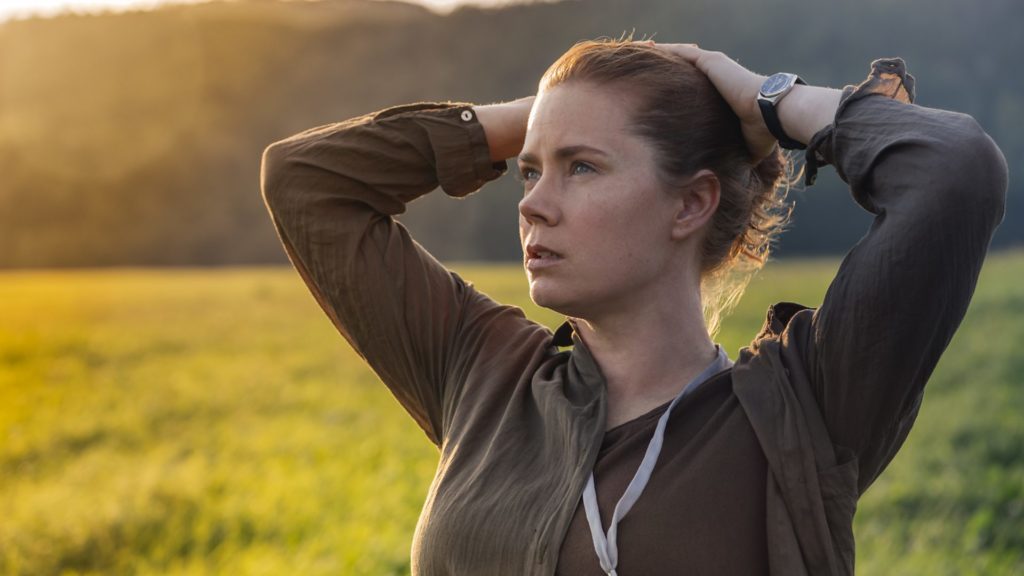 Arrival Film Review – The Story
Dr. Louise Banks is a linguist who tries to decipher why "the heptapods" have landed on Earth. As their language is visual and they don't speak in words, Banks has her work cut out. Time is of the essence over here as they have landed in pods at twelve sites around the globe. Mistrust slowly ensues between the various nations involved. Banks must decipher the reason why "the heptapods" are here before it is too late.
There is another story, though, which is a more personal one. Dr. Banks has a daughter, who we see in flashbacks. All we know is that she had cancer that led to her demise in early childhood.
Arrival Film Review – The Positives
The montages in Arrival are just too gorgeous. The rolling fields of Montana where one of the pods has landed, strewn with fog accompanied by the low light setting, gives an aptly eerie feel. Also, the soundtrack composed by Jóhann Jóhannsson is extremely efficient in building up the tension at key moments and pulling the audience into the movie.
I like the way Arrival talks about humanity for a change. The focus not being so much on the aliens, rather on how humans react to and process change in their surroundings. A significant amount of the runtime lent to decoding the aliens' language is utterly fascinating.
Talk about the Oscars arriving and Amy Adams is not far away. She portrays Dr. Louise Banks, the linguist who is at the center of the movie and delivers a thoroughly immaculate performance. Her character is strong-willed and conscious that communication is the cornerstone of every successful endeavor. She lives out the quirks of her character on the screen to perfection.
Jeremy Renner is no stranger to portraying challenging roles. His portrayal of a journo in Kill the Messenger was an Oscar-worthy performance. In this film, he is supporting Amy Adams' character right through the end. Although playing second fiddle, Renner gets all his cards right, as his character, Ian Donnelly, an astrophysicist, never overshadows Adams' character.
The other cast that includes Forest Whitaker also serves the film well.
Arrival Film Review – The Negatives
The only downside to Arrival is that some of the audience will have to watch it again to make sense of much of it. Even though while watching Arrival, viewers will never feel subject to unnecessary scientific jargon, the non-linear quality of the film makes it somewhat difficult to grasp in one viewing. Having said that, watching it more than once is not at all a bad idea. If ever you were to see a movie a second time, Arrival would be a good choice.
The Final Word
Arrival is a must-see film for many reasons, and the big screen is where you will truly appreciate it in all its glory. I'd suggest heading to a cinema near you if you haven't done so yet.
Stars: 4 out of 5