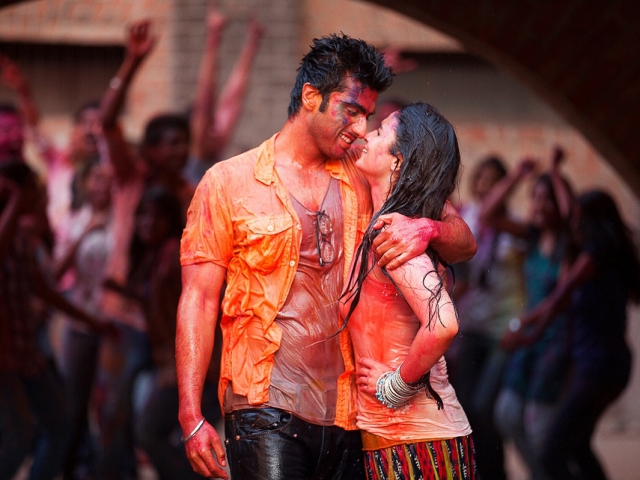 2 States is a likeable film. The film portrays the period after the girl and boy fall in love with each other until they get married. As they belong from two different states, and, therefore, differing cultures and traditions, it is all the more difficult for their parents to agree to their matrimony.
2 States sways from being funny to melodramatic. Though there is nothing new that the story has to offer, it still manages to entertain. There are some hilarious moments in 2 States as Krish tries to please Ananya's parents so that they may approve their matrimony. On the other hand, you empathize with Krish as he has a drunken father who abuses his mother. The relationship between them is intriguing.
The film is in flashback as Krish narrates his story. It brings out the hitches that the couple face as they try and convince their parents to agree to their marriage. First, Krish goes to Chennai to meet Ananya's parents, and tries to bond with them. Afterwards, Ananya flies to Delhi and tries to do the same with Krish's parents. This is not sufficient, and Ananya tells Krish that all of them should go on a common vacation. Thus, they catch up in Mumbai. What ensues is some more drama.
Arjun Kapoor plays the role of the Krish with conviction as he meanders his way through 2 States. Alia Bhatt is convincing as Ananya, the girl who has fallen in love with a boy from a different state. Amrita Singh and Ronit Roy both play their roles as Krish's mother and father, respectively, with authority. Both being veteran actors lend credibility to the respective roles. Ananya's parents are well portrayed too.
The songs are melodious and hummable. The range of emotions displayed by the lead actors is commendable. An outsider to Indian marriages may think what all the fuss is. However, in India it is commonplace. This is well depicted in 2 States. There are some passionate scenes between Arjun Kapoor and Alia Bhatt when they are studying at IIM, Ahmedabad that may not be suitable for children. Barring this, 2 States is suitable for viewers of all ages. All in all, 2 States, based on Chetan Bhagat's novel of the same name makes for entertaining viewing.